American multinational energy company Chevron Corporation has recently announced that it has entered into a definitive agreement to acquire all of the outstanding shares of American global independent energy company Hess Corporation in an all-stock transaction valued at $53 billion — or $171 per share based on Chevron's closing price on 20 October 2023.
Under the terms of the agreement, Hess shareholders will receive 1.0250 shares of Chevron for each Hess share.
The total enterprise value, including debt, of the transaction is $60 billion.
The acquisition of Hess's upgrades diversifies Chevron's already advantaged portfolio.
Expected to deliver production growth into the next decade, the Stabroek block — a 26,800 square kilometre offshore area in Guyana — is an extraordinary asset with industry leading cash margins and low carbon intensity that is expected to deliver production growth into the next decade.
Hess' Bakken assets add another leading U.S. shale position to Chevron's DJ and Permian basin operations and further strengthen domestic energy security.
The company also brings Chevron a material interest in one of the world's hottest growth plays in Guyana, with high returns and low Scope 1 and 2 emissions intensity.
Guyana accounts for approximately 70 per cent of Wood Mackenzie's Hess valuation and multi-play potential and prospects beyond existing discoveries offer future upside.
Wood Mackenzie Corporate Research VP David Clark addressed the acquisition and commented: "The deal follows too quickly in the footsteps of ExxonMobil's Pioneer takeover to be a reaction – they must have been negotiated concurrently – but it's difficult not to draw parallels. Both targets have premium portfolios, trading at premium prices. These are not opportunistic deals, but strategic moves to realign portfolios for the coming decades."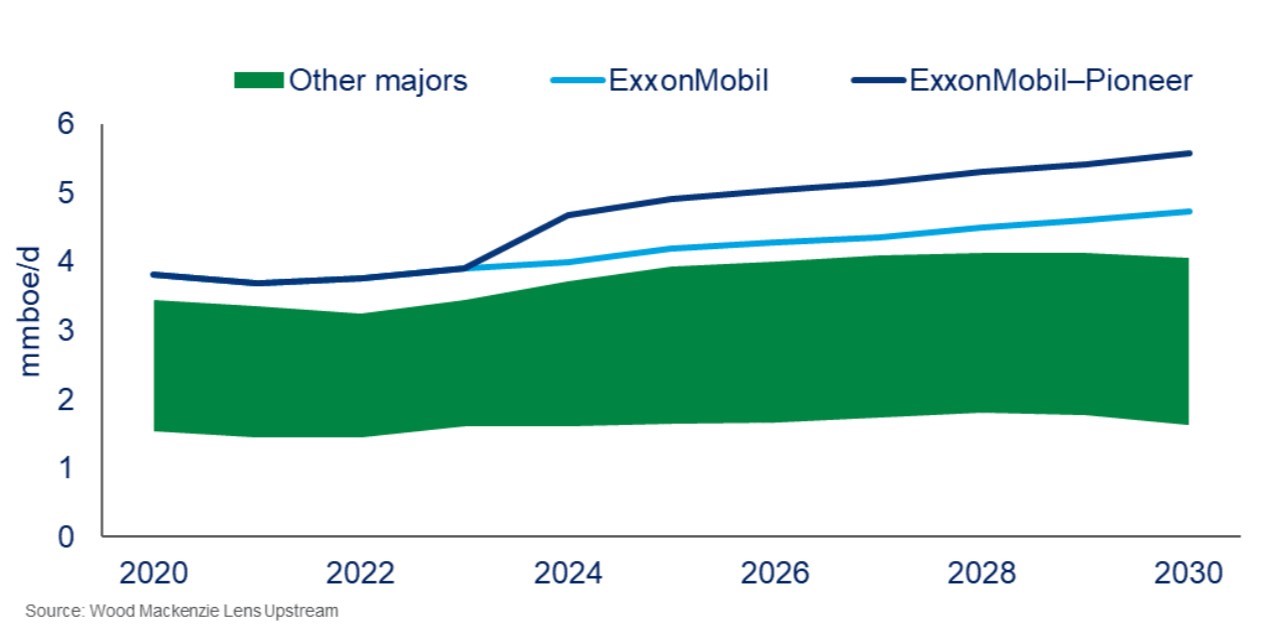 According to an analysis conducted by Wood Mackenzie, Chevron currently has the most concentrated upstream position in the Majors peer group.
Adding Hess' position in Deepwater Guyana and a mature large-scale, cash-generating operation in the Bakken (two new regions for Chevron) immediately reduces concentration risks.
Conversely, ExxonMobil post-Pioneer, will have the most concentrated upstream portfolio in the peer group — but unlike Chevron, has full value chain integration on the US Gulf Coast as a counterweight.
Following the addition of Hess, Chevron will become the leading IOC in deep- and ultra-deepwater by value, overtaking Shell.
The Stabroek block will become Chevron's second most valuable international upstream asset, larger than its stake in Kazakhstan's giant Tengiz project.
The combined company is expected to grow production and free cash flow faster and for longer than Chevron's current five-year guidance.
In addition, John Hess is expected to join Chevron's Board of Directors.
Chevron Chairman and CEO Mike Wirth stated that this combination positions the company to strengthen its long-term performance and further enhance Chevron's advantaged portfolio through the addition of world-class assets.
"Importantly, our two companies have similar values and cultures, with a focus on operating safely and with integrity, attracting and developing the best people, making positive contributions to our communities and delivering higher returns and lower carbon.
Chevron CFO Pierre Breber stated that this addition of Hess is expected to build on Chevron's track record of successful transactions and further extend the company's free cash flow growth.
"With greater confidence in projected long-term cash generation, Chevron intends to return more cash to shareholders with higher dividend per share growth and higher share repurchases," sid Breber.
Chevron now has some of the industry's best growth portfolios.
This includes Guyana, the world's largest oil discovery in the last 10 years, and the Bakken shale — where Chevron is a giant oil and gas producer.
According to Rystad Energy Senior Upstream Analyst Matthew Wilks, Chevron is betting big on the future output of Guyana and Hess's stake in the offshore Stabroek block — which since 2015 has seen discoveries of more than 11 billion barrels of oil equivalent (boe) of recoverable resources.
Wilks states that Chevron will have access to more than 3.4 billion boe from Guyana after this deal.